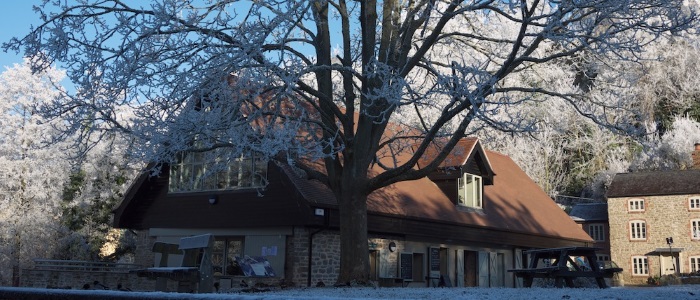 The Green Cafe is situated on the banks of the River Teme overlooking the weir and Dinham bridge. Ludlow castle is in the background, with the Millennium Green, a large grassy area on the side, perfect for picnics and often described as "Ludlow's beach".
The Green Cafe opened in 2009 on the site of a former mill and in recent times the local swimming pool. The water wheel was re-installed when the building was renovated in 2008, several original features remain and the building now contains office space, a public meeting room and a workshop.
We are very much a cafe, open from 10.00am, serving coffee, tea and cake throughout the day, with a lunch menu from 12.00pm – 2.30pm. We are available for private hire in the evenings.
Our menu is produce lead; we work closely with small scale growers, farmers and food lovers in the area to create a daily changing menu that will always include a soup, pate, omelette, pasta dish and a vegetable salad as standard.